We're pleased to be back with our second edition of Kidney Kids and Youth News. There's been some special moments in the last few weeks we'd like to share with you. 
Kidney Es-Capers events are back!
We kicked off our Gold Coast Kidney Es-Capers event to tie-in with the 33rd Kidney Kar Rally. It was a huge success this year, with 40 cars travelling an incredible 5000km from Cairns to Dubbo, all to raise an incredible $500k for our Kids and Youth Program.  
It was a beautiful sunny day, perfect for our kidney families to explore Sea World, enjoy rides and spot seals and dolphins. Everyone came together to welcome the Kidney Kar Rally drivers to the theme park. It was wonderful for the drivers to see firsthand the impact of their fundraising by meeting families and seeing the kids have so much fun! 
All events are free and we welcome all siblings to get involved in the action. We are planning a Perth Kidney Es-Capers event for November, so keep an eye our website for dates. We will also be sending out invites by email to every family.
Catch up on our Diet and Nutrition webinar
If you missed our first webinar for Kids and Youth on Diet and Nutrition with Dr Kelly Lambert, you can view the recording here.
Dr Lambert provides easy, practical suggestions for managing your child's diet. 
Register for our Transition and Transfer Webinar 
If you or the young person you care for is approaching transitioning to adult health care, then this webinar is for you! 
The presentation will be led by Dr Anna Francis, Paediatric  Nephrologist, Queensland Children's Hospital and Dr Nick Larkins, Paediatric Nephrology Registrar, Perth Children's Hospital. You will be able to ask questions, and hear from a young person who will share their experience of transitioning to adult care.  
Date: Tuesday, 11 October 2022
Time: QLD - 4.30-5.30pm  
           ACT/NSW/TAS/VIC – 5.30-6.30 pm  
           SA – 5-6pm  
           NT – 4-5pm 
           WA – 2.30-3.30pm  
Register here 
Red Socks Run
Have you registered for the Red Socks Run? 
This October we're challenging the community to run, walk or ride 60km to combat kidney disease. 
We would love to see families getting involved. By participating you'll be raising much-needed awareness and funds for kidney disease research, care, and support. And you'll be rocking some red socks whilst you do it. 
Parents and Carers Facebook group
Did you know that we have a Facebook group for Parents and Carer?
This closed group is a space where you can connect with other parents and carers, ask questions, and share your experiences with others.  
Join here
Get creative in the kitchen with your child by making this kidney friendly recipe together. Send us a photo of your marvellous creation by Sunday 2 October. The first two entries will receive a copy of Back on the Menu: Low potassium recipe book.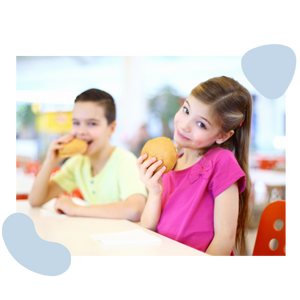 Fruity Lamb Burgers 
Serves: 4 
Ingredients  
1 egg, lightly beaten 

½ cup of fresh white breadcrumbs 

5 tablespoon of flat leaf parsley, finely chopped  

2 tablespoons fruit chutney  

¼ cup of currants 
1 tomato, sliced

½ cup of grated carrot  

½ lettuce head 
Method 
1. Combine mince, egg, breadcrumbs, parsley, chutney, currants and pepper in bowl, mix well.  Divide into 4 portions, shape each portion into a patty.   Place on a plate or tray and cover, then refrigerate for 1 hour. 
2. Place couscous onto a flat plate. Coat each patty with couscous, pressing on with fingertips. 
3. Pour oil into a large non-stick frying pan to cover base.  Heat oil on a medium heat. Cook patties for 8 - 10 minutes each side or until browned and cooked through.   
4. Assemble burger and serve
Do you know another family who might benefit from connecting with Kidney Health Australia?
When your family is newly diagnosed with kidney disease it can be difficult to find the answers to your questions, and it can be even harder to find your tribe – those who understand what you're experiencing because they've walked in your shoes.  
We're really keen to get in touch with other families living with kidney disease and let them know we have all sorts of information and supports for them.  
You can help spread the word by:
Sharing this newsletter  
Posting and sharing on our social media  
Referring them to our website to join the Kidney Kids and Youth Program  
Have questions about our upcoming events? Email us at kids@kidney.org.au or give us a call on 1800 454 363 (option 3). 
Best wishes, 
Lauren and the Kids and Youth Program Team  
Click here to unsubscribe or to change your Subscription Preferences.